Websites play a vital role in the success of businesses these days. It is estimated that around 60% of all small businesses don't have a website. That stat alone should be enough to convince you that having a website is essential for your business.
There are many benefits of having a website, including:
It helps you reach a wider audience – with a website, you can target people worldwide, not just those in your local area.
24/7 marketing tool – your website will work for you even when you're sleeping!
Improves credibility – potential customers are likelier to trust a business with a professional website.
Cost-effective marketing – a website is a very cost-effective way to market your business, especially when compared to traditional methods such as print advertising.
If you're convinced that you need a website for your business but don't have the time or knowledge to build one yourself, our done-for-you website development services can help.
We have a team of experienced web developers who can build a custom website that meets all your needs and requirements.
We offer a range of different website development packages to suit all budgets, so you can be sure to find one that's right for you. All the websites which we build are responsive, meaning they'll look great on all devices, from desktop computers to mobile phones.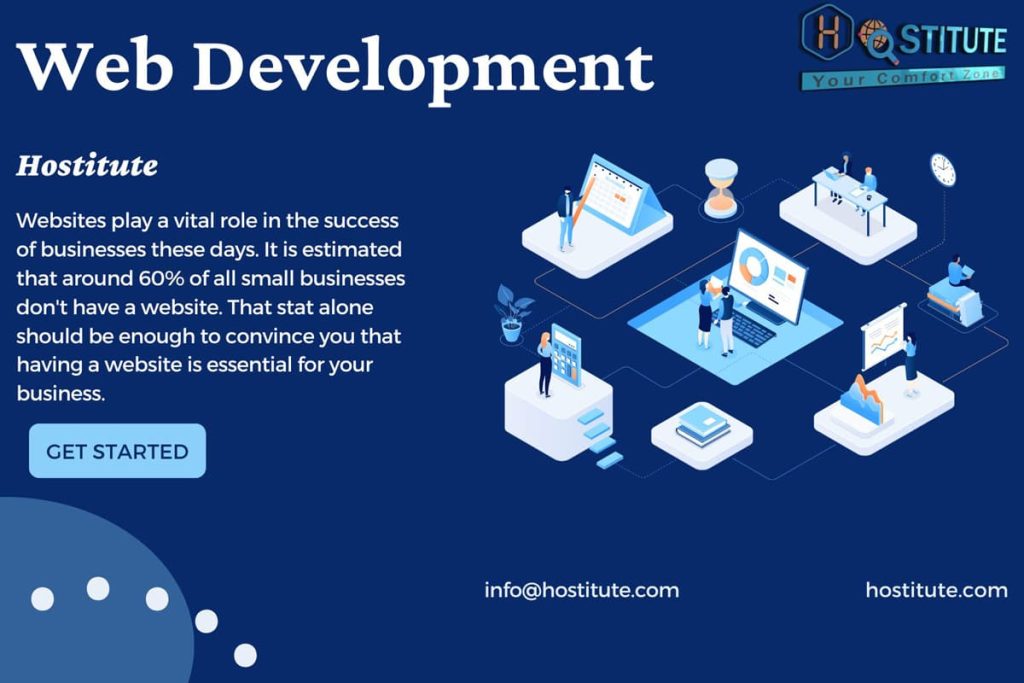 What to expect when you work with a website development company
When you work with a website development company, you can expect them to create a website for you that is easy to navigate and has clear typography and quick loading times. Website development companies also have experience in creating responsive websites that look good on all devices, from desktop computers to mobile phones.
In addition, website development companies can help you with website SEO, ensuring your site is easily found by potential customers when searching for keywords related to your business. Finally, website development companies can provide ongoing support and maintenance for your website, ensuring that it remains up-to-date and running smoothly.
The different types of services that are offered by web developers
Web developers are a crucial part of the internet ecosystem, providing the technical know-how to bring websites and web applications to life. Web development solutions include web application development, cybersecurity, testing, maintenance, consultancy, and UI/UX design.
Developers work with various programming languages and frameworks to create custom solutions that meet the specific needs of their clients. In addition to building new websites and applications, developers also provide ongoing support and maintenance services to keep everything up-to-date and running smoothly.
Ultimately, developers play a vital role in ensuring that the internet is a safe and user-friendly place for everyone.
How the process of web development works – from start to finish
There are generally seven phases to the software development process: planning, analysis, design, development, testing, implementation, and maintenance. In the planning phase, the project manager works with clients to determine the goals and objectives of the software.
Once these have been established, the team moves on to the analysis phase, gathering information about the user's needs and requirements. This information is then used to create a detailed design for the software.
The development phase is where the actual coding takes place. Once the code has been written, testing it thoroughly before moving on to implementation is important. In the implementation phase, the software is installed and put into use. Finally, any necessary updates or repairs are made in the maintenance phase.
What do you need to provide for the developers to get started?
When you're ready to get started on your new project, there are a few things you'll need to provide for the developers to get started. Business information like your company's name, contact information, and what you do will be needed so that they can create a custom solution for you.
If you have any existing software that needs to be integrated, making a note of that will be important. And finally, general notes and design references will help the developers understand your vision for the project. By gathering these items in advance, you'll be able to start your project off on the right foot.
How much will it cost, and how is payment handled?
A business website (8 to 16 pages) will cost $2000 to $9000. Payment is handled via a credit card, PayPal, or bank transfer. The website will be designed and coded by a professional web design company.
A business website's cost includes hosting, domain name, and content management system. The total cost also depends on the number of pages, the complexity of the design, and the number of features required.
A simple website with a few pages and no complex features will cost less than a website with many pages and complex features. A payment gateway, e-commerce functionality, or a custom-designed theme will increase the cost of the website.
The importance of communication throughout the project
Communication is critical to the success of any project. By keeping lines of communication open, project managers can ensure that everyone is on the same page and that tasks are being completed as planned.
Good communication also allows for feedback and adaptability so that it can be quickly changed if something isn't working. In short, communication is essential for keeping a project on track and ensuring its success.
How To Work With A Website Development Company
When you work with a website development company, you can expect several different services to help you create an effective and modern website. The process usually starts with understanding your needs and what you want your website to accomplish.
You'll need to provide the developers with all of the necessary information so they can get started, and then payment is handled according to the agreed-upon contract. Throughout the project, it's important to communicate with the developers regularly, so they stay on track and meet your expectations.
If you're ready to start working on your new website, contact Hostitute today for an estimation. We look forward to helping you build an amazing site that exceeds your expectations!