Shared web hosting services are an economical way to get your website up and running. These services provide a cost-effective solution, allowing you to host multiple websites on the same server while enjoying all of the benefits of a dedicated server without its high costs.
With shared hosting, all websites share the same resources regarding storage, bandwidth, memory, processing power, and other aspects. This makes it the perfect solution for websites that don't need to consume large amounts of resources but still want to enjoy all the benefits of a robust hosting service.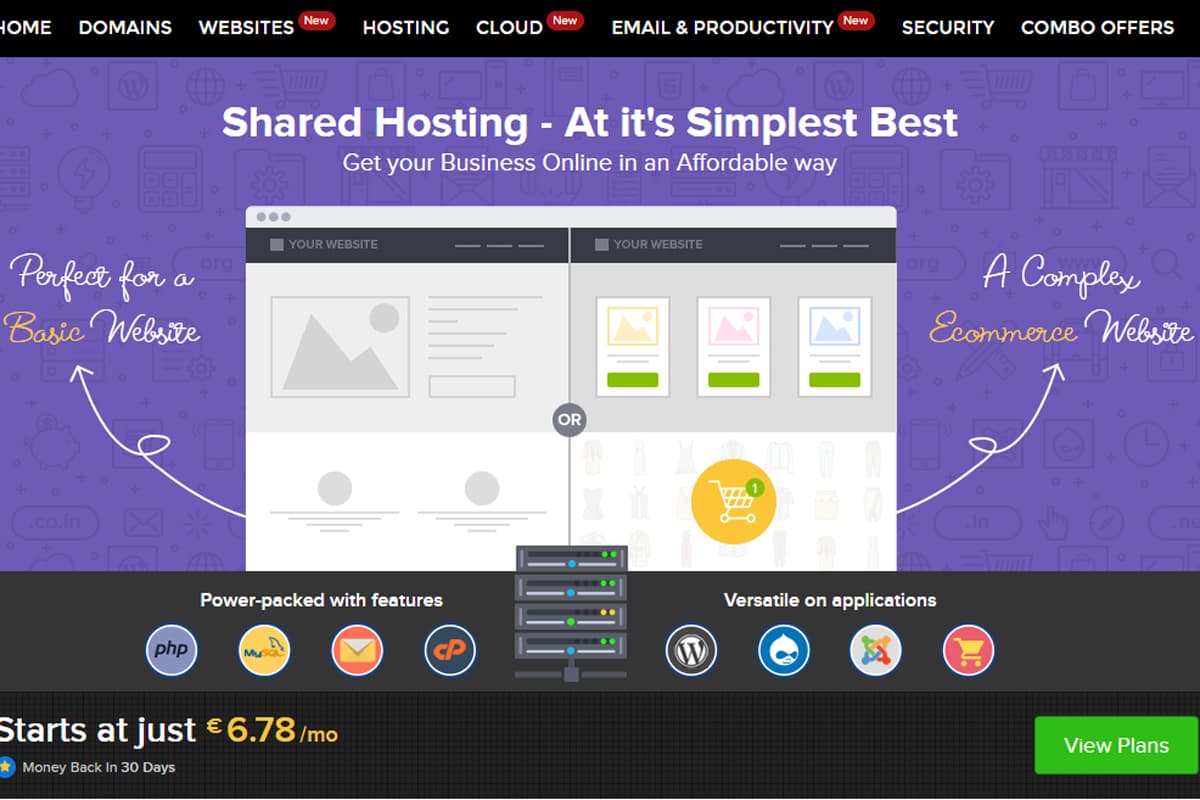 What is web hosting, and why do you need it
If you want to have a website, you need web hosting. Web hosting is a service that provides technology and a platform that allows your website to be viewed on the internet. When you type in a web address, like www.example.com, the internet connects to the web server associated with that domain name and then transfers the data to your computer so you can view the page.
Web hosting is important because it gives you a place to store your website's files, makes sure your site is available 24/7 and can provide additional services like email and security.
There are different types of web hosting, but the most common is shared hosting. This means that your website shares a server with other websites. Shared hosting is generally more affordable than other types of hosting, but it does have some limitations. For example, if another website on your server gets a lot of traffic, it can slow down your site.
But no matter what type of web hosting you choose, it's important to make sure you pick a reputable company with good customer support. After all, your website is one of your most important online assets!
Types of web hosting services
There are three main types of web hosting services: shared, virtual private server (VPS), and dedicated. Shared hosting is the most basic and affordable option. Your website will be hosted on the same server as other websites, and you will share resources such as CPU and memory.
VPS hosting is more expensive than shared hosting but offers greater flexibility and more resources. Your website will be hosted on a server that is shared with other websites, but you will have your own virtual space with your own set of resources.
Dedicated hosting is the most expensive option, but it provides the greatest level of control and resources. Your website will be hosted on its own physical server, giving you complete control over the server and its resources. Choose the right web hosting service for your needs to ensure that your website has the power and flexibility it needs to succeed.
How to choose the right web hosting service for your needs
As anyone who has ever tried to launch a website knows, choosing the right web hosting service is vital to the success of your online venture. With so many options available, it can be difficult to know where to start. However, by taking the time to understand your needs and doing some research, you can find a web hosting service that will meet your needs and help your website flourish.
The first step is to identify your needs. Ask yourself how much traffic you expect to receive, what type of content you will be hosting, and whether you need any special features such as e-commerce capabilities.
Once you have a good understanding of your needs, you can start researching different web hosting services. Reading reviews from other users can be helpful, as you can get an idea of which services are reliable and offer good value for money. You should also compare prices between different providers to ensure you get the best deal possible.
Choosing the right web hosting service can set your website up for success. Finding a provider that offers the features and resources you need can ensure that your website runs smoothly and efficiently, giving your visitors a positive experience.
Features to look for in a web hosting service
To find the right web hosting service, you must know what features to look for. The first thing you want to consider is the type of website you're looking to host. Are you looking to host a personal website, a business website, or an e-commerce store?
Once you know the type of website you want to host, you can start narrowing down your options. Some important features to look for include unlimited storage and bandwidth, 24/7 customer support, a user-friendly control panel, and a money-back guarantee. By keeping these factors in mind, you can be sure to find a web hosting service that meets all of your needs.
The cost of web hosting services
A website is like a digital storefront; just like any physical business, it needs a place to call home. That home is provided by a web hosting service, which rents out servers where websites are stored. Of course, this comes at a cost, and the price of web hosting can vary depending on several factors. The type of server required, the amount of storage needed, and the level of traffic the site receives are all important considerations.
However, there are a few basics that all web hosting services provide, such as email accounts and domain registration.
For small businesses, the cost of web hosting is typically around $200 per year. Larger businesses may pay more than $1,000 annually for web hosting services.
Whether you're just getting started or you're ready to take your business to the next level, the right web host can make all the difference.
How to set up your website with a web hosting service
You can purchase your hosting platform instantly by following this link or contacting us to set up your hosting platform for you. You will receive an email with your login credentials and billing information. You can log in to your Control Panel to manage your account and billing.
You will also be able to create email accounts, FTP accounts, and MySQL databases from your Control Panel. If you have any questions, our support team is available 24/7/365 to assist you. Thank you for choosing Hostitute web hosting!
Ready To Host Your Website?
So, you have a great idea for a website but don't know where to start. Or maybe you've already created a website, but it's not performing as well as you'd like. In either case, web hosting is likely the next step you need to take to make your online presence known.
And fortunately, there are plenty of options for finding the right web hosting service for your needs. But with so many choices available, how do you choose the best one?
That's where we come in! Our team of specialists can help guide you through the process of choosing and setting up the perfect web hosting solution for your business or individual website requirements.
We'll work with you every step of the way to ensure that your website is ready to launch – and performs perfectly once it does.
Ready to get started? Contact us today for more information on our web hosting services!